At Brunswick Fyr & Safety, serving New Brunswick ,Nova Scotia & PEI, we offer a range of services to help keep you and your site as safe as possible. From the installation of emergency lighting to reliable restaurant equipment, you can count on our team of experts to help you find what you need. Read on to learn more about the different services that we make available, or contact us today to get started.
FIRE EXTINGUISHERS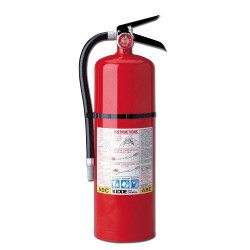 Brunswick Fyr & Safety Accessories Ltd provides only qualified service technicians to inspect your portable fire extinguishers. We guarantee quality service that is fully certified for all types of portable extinguishers, and we offer service and sales for residential, commercial or industrial applications.
All our inspections and servicing meet NFPA 10 standards, and we offer a 5-year warranty on all fire extinguishers, covering manufacturer defects from date of manufacture as long as Brunswick Fyr & Safety Accessories Ltd does the yearly maintenance.
EXTINGUISHER SERVICE AND INSTALLATION
We offer complete service on all makes and types of fire extinguishers, as per NFPA 10 regulations. We also offer a flat rate 6-year maintenance agreement to help you in better planning your budget. Call us for more details, or for more information about NFPA regulations please visit www.nfpa.org.
EXIT/EMERGENCY LIGHTING
We service emergency lights by testing them, replacing batteries and bulbs as required. We also recommend a yearly check which can be done in conjunction with the annual fire extinguisher inspection.
BUILDING EVACUATION PLAN
We can create a custom-made evacuation plan for your building.
FALL ARREST SOFT GOODS INSPECTION
Certified Fall Protection Inspectors ( FPINS-04) on staff. On site inspection can also be arranged.
FALL ARREST TRAINING IN NEW BRUNSWICK
Fall Protection Regulations in New Brunswick require training and inspection – we provide both at your convenience.
RESPIRATORY FIT TEST
Certified Qualitative Fit Test Trainers-Irritant Smoke on staff. On-site Fit Test can also be arranged. Please call ahead to set up a time for your fit test.
IMPROVED HYDROSTATIC TESTING SERVICES
We are certified by Transport Canada to perform hydrostatic tests of high pressure cylinders to the maximum test pressure of 10,000 PSI.